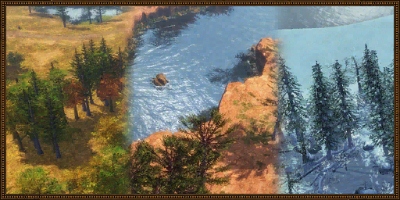 With a Trade Route always dividing the map in two, the rest of the map is completely randomized. Whether it will be snow, grass, or water, it is up to exploring to find out the surroundings. Choosing the proper deck can only be accomplished by knowing the surround terrain and tribes. Huntables can be plentiful or scarce, tribes may be from the Caribbean or Canada. No game is the same.
Expect the unexpected with the Unknown.
Description
Edit
The mysterious Unknown! Snow or desert, land or water, Trade Routes or Natives or both. You never quite know what you're going to get. Expect the unexpected.
Ad blocker interference detected!
Wikia is a free-to-use site that makes money from advertising. We have a modified experience for viewers using ad blockers

Wikia is not accessible if you've made further modifications. Remove the custom ad blocker rule(s) and the page will load as expected.